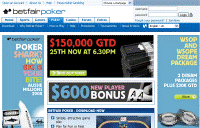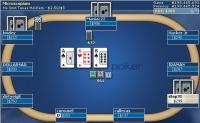 Betfair Poker was launched in 2004 and today is one of the premium online gaming sites on the Internet. Betfair Poker has built its reputation on integrity, innovation and user-friendliness. A few of the advantages of playing poker at Betfair are the lowest rakes in pot games and among the largest guaranteed prizes in multi table tournaments.
Betfair Poker Games
The popular games at Betfair Poker are Texas Hold'em and Omaha. The games can be played in a single table or multi table format. Betfair Poker believes in helping enhance the capabilities of its players. Hence in addition to information on rules, hand rankings and poker lingo it offers a unique tool called hold'em or fold'em. This tutorial offers practice and advice in deciding which hands should be played and which should not. Betfair hosts its own poker tournaments. But that is not all. The site is an entry point to some of the major global tournaments such as Leaderboards and the Irish Poker Classic.
Betfair Security
Betfair is an ISO 27001 certified organisation. At Betfair Poker the information supplied by customers is handled through encrypted software certified by Thawte and Verisign. The operations at Betfair poker are certified by the Lotteries and Gaming authority Malta. All these ensure a safe, secure and fair playing environment. In addition Betfair Poker takes Responsible Gambling very seriously. It offers a helpline for those having gambling problems.
Betfair Bonuses
Betfair Poker offers several bonuses and promotional schemes to ensure that its customers get value for money. The sign up bonus is not linked to the deposit amount made by the player but to how much he plays in 60 days. This bonus can go as high as $600. A promotion scheme that is unique in the online gaming community is Betfair's Threedom Pass. If a player qualifies for an offline tournament through Betfair Poker and then reaches the final table in that tournament he becomes eligible for the Threedom Pass. Betfair will foot the entry and travel costs for the player to attend this tournament for the next three years. Betfair's referral scheme pays £20 per referred friend when that friend has wagers a minimum of £100. Also if you want to see some casino sites that accept paypal, have a look at this casino paypal review site.
Betfair Support
Betfair has a 24 hour helpdesk with telephone lines manned by English speaking staff. The support staff guarantees response to e-mails within 4 hours. In addition Betfair has an FAQ section that is regularly updated. But Betfair's biggest support system is its community of poker players.